Redesigning the TV experience for PTCL's customers
Challenge
The Challenge:
To Simplify the experience of PTCL Smart TV to improve adoption and content consumption.
Pakistan Telecommunication Company Limited (PTCL) is Pakistan's leading Internet Service Provider. Their IPTV product Smart TV is one of the most popular entertainment products in Pakistan, with several hundred thousand people using it every day. It's users range from children to senior citizens, from housewives to working professionals. It offers 150+ live channels with rewind capability and 1000s of titles through Video on Demand and TV on Demand features.
The Problem:
PTCL Smart TV was launched in 2008 and started a new chapter for paid content in Pakistan. Even though PTCL had strong local and international content partnerships in place with media giants such as Netflix, the adoption of on-demand content and consumption was low pointing towards a poor product experience. In early 2017, the product was losing customers to the competition despite better content availability. Deeper investigation revealed that the majority of the users were just using the product for live TV and the video/TV on-demand content consumption constituted only 4% of the total content consumption.
My role and team:
I was the Product Strategist working with the Design Director for the project and was involved right from the start of client relationship all the way to the hand-off. Other team members included UX researcher, an interaction designer, a Visual Designer, and a Data Scientist. I led the competition benchmarking, data analytics effort, some user research, product strategy and the customer storytelling for the entire product.
Data Analytics:
I worked with the data scientist to make sense of the product logs, usage patterns, and other interesting patterns in the data. We observed that PTCL's reported metrics were inadequate and did not yield meaningful insights. The product was also not designed well enough to track and measure user data. Our data scientists helped us draw user insights from the raw data set on usage statistics, viewership ratings, and logs imported from the product back-end. This dataset also provided hard proof of our hypothesis: 'users are not using the differentiating features of the product offering (i.e. Video on Demand)'. This insight served as the basis of our design principle: 'Design for Discoverability of Content'.
Demographics:
We analyzed the socio-economic class data of PTCL Smart TV customers and found that the majority of households belonged to middle and higher socio-economic classes. Such customers value great user experience and are familiar with mobile and web interfaces. Despite such demographics, the product feature usage was low.
Usage Insights:
PTCL users were overwhelmingly watching Live TV content only. Data analysis made it abundantly clear that TV/Video-on-demand content contributed only 4% towards consumption. Clearly, pricing was not the main issue as there was a large collection of free content available in the TV/VoD categories. We decide to explore the reason behind this through our ethnographic research. Is it because the content is not easily discoverable? Or navigation is not intuitive? Or do the users just generally prefer Live TV?
Content Categories:
I challenged the team to find other patterns such as the content categories being consumed by users and at different times of the day. These insights informed our choices in the redesign to provide users with content filters around the most popular content categories e.g. News, Dramas, Kids, Entertainment, etc.
Interviews:
Human-centered Design starts with empathizing with real users. I worked with the user-research team to listen to the problems faced by PTCL Smart TV users while using the products at their convenience. We carried out ethnographic research in 3 major cities of Pakistan comprising of 30 qualitative interviews across commercial and residential users.
Before the interviews, I worked with the team to research prior published literature and benchmarked similar local and international product offerings. We also conducted expert usability heuristics analysis to identify problems in product flows, user interaction, and feature discoverability.
Format:
Most interviews were open-ended discussions learning about how the users interacted with the smartTV product. These discussions were informed by the discussion guides prepared by us and also involved asking users to use the product around simple scenarios e.g. how would you find your favorite show/channel/content type? What if you missed your show, how would you watch it?
The team also paid special attention to how users interact with TV remote as well as their mental model for content discovery and content copy.
Key Insights:
These interviews gave us a wealth of information and a lot of interesting insights which informed our design principles. I am sharing only three key insights here.
Make getting to LIVE TV easier:
Turning on the TV required several steps and several users would wait for their tech-savvy kids to do it for them. They were used to the simple Live TV experience of Cable TV: press the power button on remote and it just works (no redundant prompts or button clicks). PTCL Smart TV had added just a few more steps: Once turned on, they had to press OK twice to get to live TV (1: start menu, showing features and 2 program guide and other menu). This small change had taken away their only source of entertainment by adding layers of 'perceived complexity'.
"Ever since we've installed PTCL TV, I don't use it myself. When my son comes back from school, he turns it on for me." Housewife – Tier 2 City
Preference for 'Right' button in navigation:
We observed real users interacting with TV and we noticed that all the users pressed the right button due to our cultural preference for right. The features which were on the left of the default menu item (see image above, step 1) went unexplored even though they were key features. In our redesign, we incorporated this insight by making the navigation flow from left to right.
Show the value of content before charging for subscription:
Due to the confusing information architecture, most of the users were assuming that they have to pay for the content in certain feature categories, whereas the majority of the content was free. Several users didn't know the concept of 'content bundles' and never explored it. However, when explained the value of the offering they were surprised and showed an inclination towards subscribing. Based on this insight, it was recommended to let users sign up to paid content for a trial period before they pay for it.
Personas
Based on the interviews and user research, we developed four personas. We referred to them throughout the entire redesign process. We developed storyboards for each persona to map out their journey for accessing the content type they were most interested in.These personas also helped us in storytelling and building empathy in the client team members as well.
Co-creation Sessions:
I led several co-creation sessions with the team to synthesize the user- research data, find themes and patterns, derive insights, develop personas, map-out use-cases and storyboards for the new customer journeys of each persona. We asked the critical questions and formulated the design statements e.g. "how might we make it incredibly simple for kanwal to access kids content to entertain her crying toddler with minimal clicks?", "how might we make it easier for Mehmood to find the much talked about TV talk show he missed from the day before with minimal search?"
These storyboards and journey maps helped us develop low fidelity paper-sketches of the new interface along with the team. Through Rapid Prototyping, we iterated over 130+ different concepts of various screens to curate an ideal interface for the Smart TV, Smartphone App, and Web Portal.
Before moving to higher fidelity, we user tested various paper sketches with users and shortlisted the promising ones for wireframing. We again tested these wireframes with potential users to uncover any potential issues as well as test our goals for content discoverability and ease of navigation.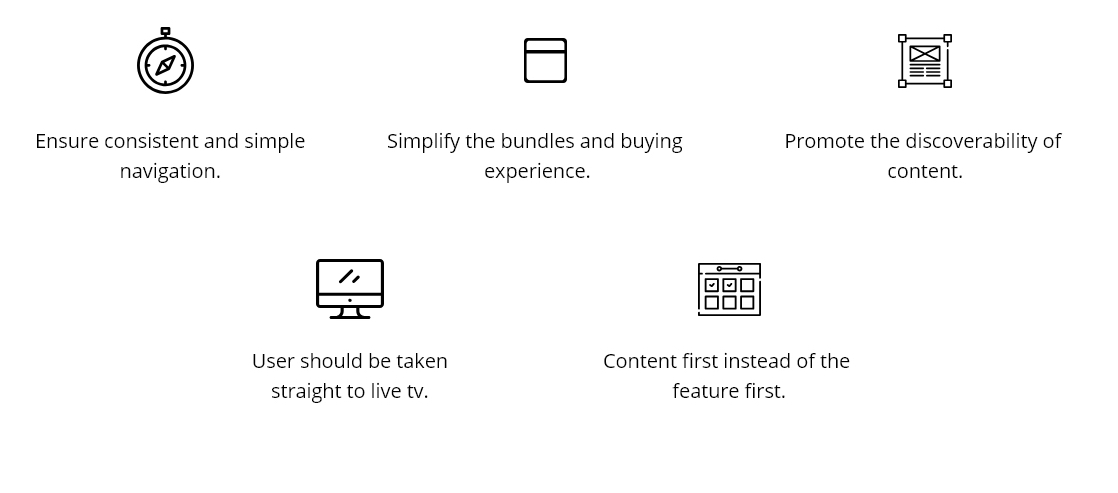 Wireframes
Based on the shortlisted paper sketches, the designers developed the wireframes of the TV, mobile and web interface of the SmartTV product.
We took the users to Live TV experience with a single click after turning on the TV. The left menu bar provided a visual cue that there is a lot more content available, however, the bar disappeared shortly to keep things simple for Shehnaz.
Fonts and resolution were designed and user-tested for local TV viewing habits (smaller TVs and larger lounges).
Discoverability
We improved the content discoverability by showcasing different types of content available within each category (live TV, TV on Demand, Video on Demand) sorted in order of popularity and personalization. Previously, this content was hidden in separate menus. TVoD and VoD were renamed to easy names closer to the names used by actual users in user-testing. The popular content categories were informed by data analytics.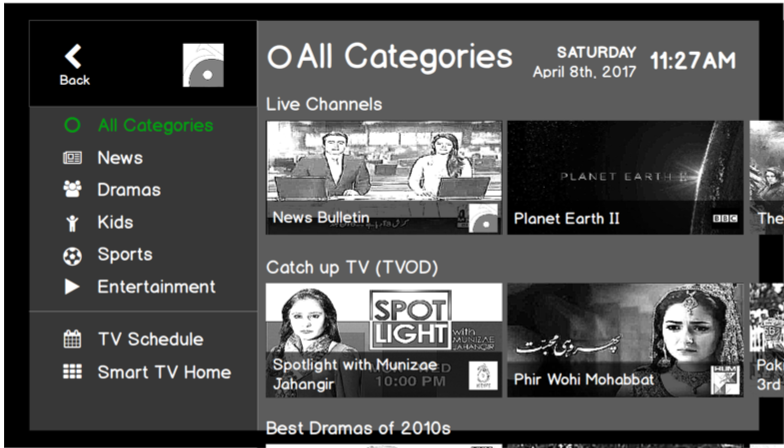 User Testing
As mentioned above, we constantly tested our ideas, paper-sketches, and prototype with the users before moving to the next level of fidelity. This constant testing helped us iterate fast and experiment with new ideas along the way.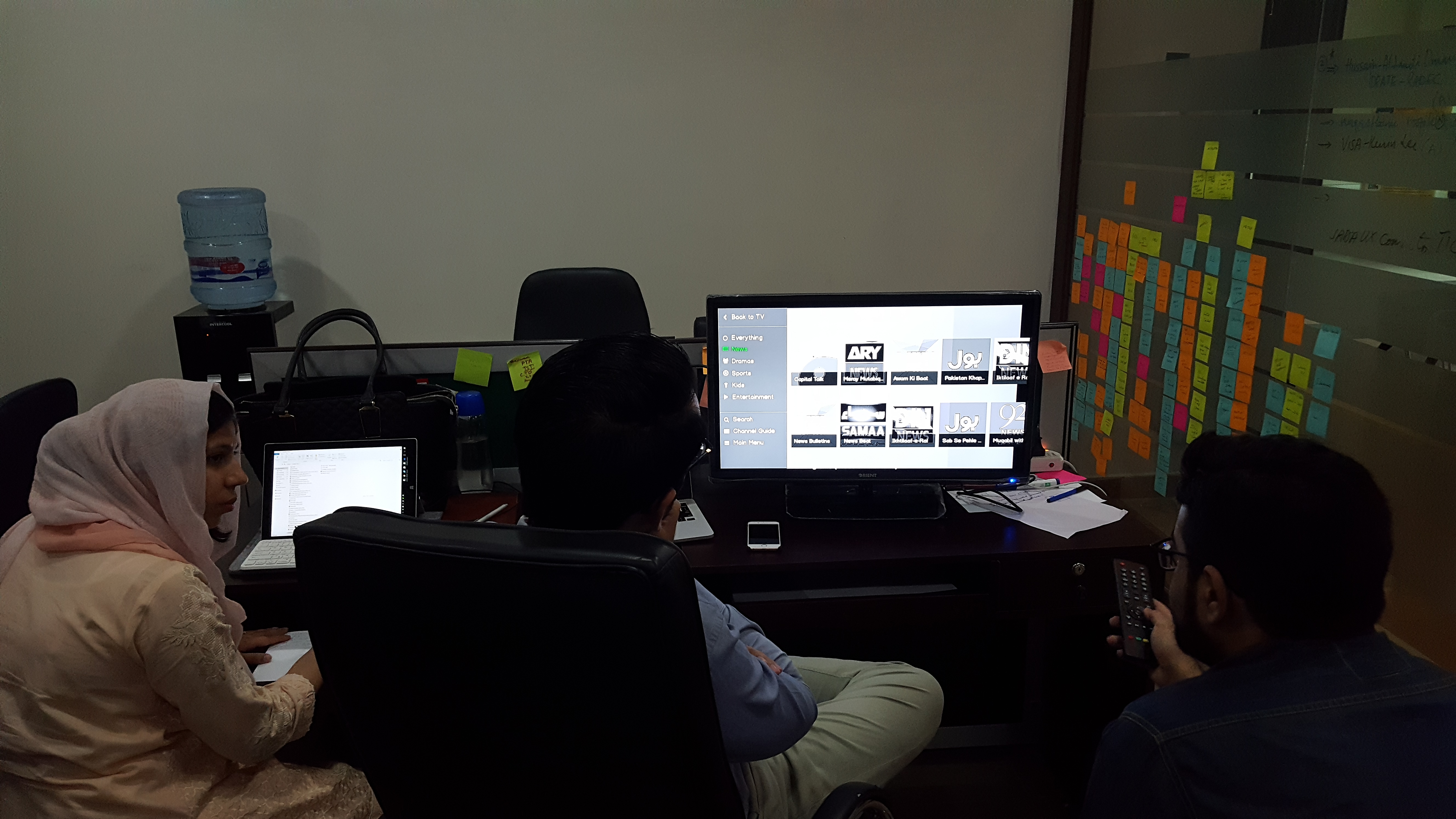 Visual Design
I worked with the team to get to the final Visual Design for web, mobile, and TV platforms. We followed a modern look inspired by digital video streaming applications. We followed the android and iOS human interface guidelines for TV interface design.
Older Interface
The image reel below shows the older interface of the product
Results
Intuitive navigation, recommendation engine, smart search, and an overall make-under of the web, application, and TV interfaces led to more seamless and enjoyable user experience. Furthermore, it brought the content to the forefront creating circular traffic. We helped shift the client product team's focus from features to a content-first approach.
Our process of involving the end user at every stage of the redesign ensured that it met their needs as closely as possible. Our key takeaways were:
TV is for fun, let it stay fun
Users watch TV for pleasure and expect the interface to be really simple
Power users will find your features as long as you build affordances
Design for content discoverability, NOT feature discoverability
TV users expect easy discoverability of content
They may not know different content types, categories and licensing rules behind them. They just want to watch content when they want!
International interface guidelines are a great starting point – adapt them to local context and user needs
Apple's Human Interface Guidelines and Android's material guide for TV recommends to design for a 10 ft viewing experience. In Pakistan, TV lounges are larger and TVs much smaller (economics), so let's the guidelines be just that – guides.
Business Impact?
PTCL rolled out the new interface (along with other service improvements) and benefited from an average revenue growth of 20% QoQ!